Terms & Conditions
At once, you must read carefully website terms and condition before using. We are happy to see you on "Admissiondrive.com" educational search engine run by JAP INFO INDIA Delhi based company.
If you want to use this search engine for you educational information either Colleges or Admission news/notification and more you must accept our "TERMS AND CONDITIONS" in case you don't like to accept it then ignore it to use.
Advertisements on AdmissionDrive.com
The advertisements shown on this search engine are given by third party or collected by expert based on research. Here, on this portal we're trying to simply help to the students who are seeking colleges according to their choice.
We are not a college and don't give admission in any college but once you registered on this website for admission or any help then we ensure you that your details will be forwarded to the authorized colleges only and counselors or any other concern persons may call you for admission or any other information.
We are not responsible for any fault in any information of advertised on this site. If you have any doubts then don't share your mobile number or other details.
>Copyright: We never give authority to copy our concept/content/images/graphics from this website for other organization until and unless we give you the permission. Users must read Term and Conditions before using the website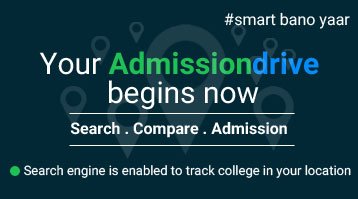 Student's Questions